Biography
Since 2010, Lin Ke has turned his attention to the behavioral science of the computer age by making himself his own Guinea pig. Converting his laptop into a studio, Lin extracts material from computer software and the Internet as the fodder and form of his art. The mundane act of exploring the vicissitudes of the world wide web and various applications becomes the catalyst for art making and self-portraiture. He records operational behavior and conceptual images by using screenshots and screen recording software. His work takes the form of installation, image, sound, text, video and computer painting.
In his work, Lin Ke uses software to set its various functions free from their original purpose in the way that language is liberated from its communicative functions to become poetic. If poetry expresses the joy of language, Lin Ke's work brings out the pleasure of the graphical user interface.
Lin Ke has gained major critical acclaim for his work by winning the OCAT – Pierre Huber Art Prize in 2014, and the Chinese Youth Artist Award of the 9th AAC Art 2015. His work has been shown at ZKM, Karlsruhe; Museum Folkwang, Essen; Museum of Contemporary Art Tokyo, Tokyo; Minsheng Art Museum, Shanghai, Museum of Contemporary Art Cleveland; Centre for Chinese Contemporary Art, Manchester, and Ikon Gallery, Birmingham. His work is featured in the collections of The Museum of Contemporary Art, Los Angeles; M+ Museum of Visual Culture, HK; K11 Art Foundation, HK; Kadist Foundation, Paris/San Franciso; New Century Art Foundation, Beijing; Power Station of Art, Shanghai; White Rabbit Museum, Sydney and among others.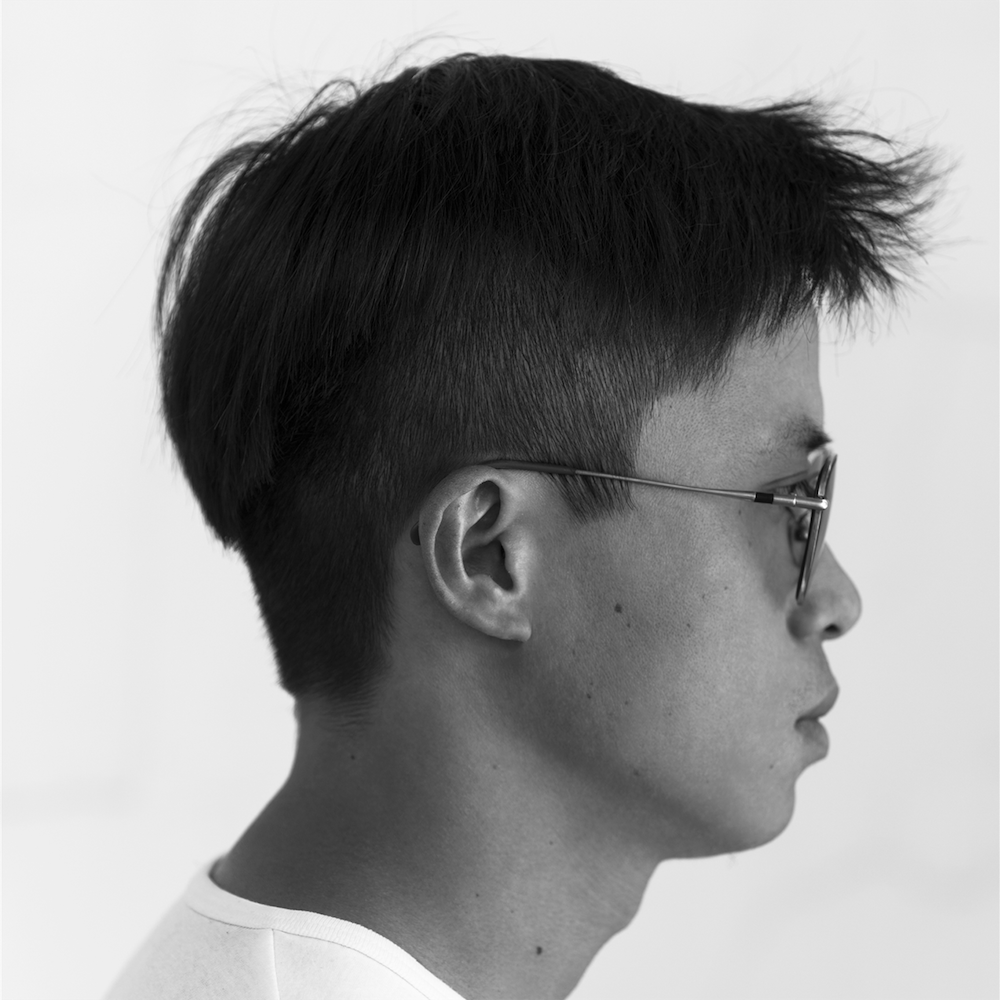 Solo Exhibitions (selection)
2022
"XiFang Art Museum", SiFang Art Museum, Nanjing, CHINA (Upcoming)
"Photoshop XXXXXXX", MANGROVEGALLERY, Shenzhen, CHINA
2021
"Frieze Art Fair", London, UK
2020 "
Business", Canton Gallery, Guangzhou, CHINA
"Xuan Fu Shi Ji", Riverside, Hangzhou, CHINA
"The Boundary of Dimensions", Zhejiang Art Museum, Hangzhou, CHINA
2019
"Sky Paintings", Bank, Shanghai, CHINA
2017
"BANK Booth", Art Basel Hong Kong, Hong Kong, CHINA
2016
"LIKE ME", Bank, Shanghai, CHINA
2014
"L in K", Gallery yang, Beijing, CHINA
Group Exhibitions (selection)
2022
"A Group Show", 39-plus Art Space, SG
2021
"The Long Cut", https://feralfile.com
"Red", Tank Shanghai, Shanghai, CHINA
"Symphony of Gravity & Harshness", G+ Art Space, Nanping, CHINA
"Coffee Kiosk – Pink is the New Black, ROOM 6×8" , SPURS Gallery, Beijing, CHINA
"On Behalf of", Qiao Space, Shanghai, CHINA
2020
"Casting Votes", CLC Gallery Venture, Beijing, CHINA
"Ineffable Longings", G Museum, Nanjing, CHINA
"Immaterial / Re-material:A Brief History of Computing Art", UCCA, Beijing, CHINA
"Duration:Chinese Art in Transformation", Beijing Minsheng Art Museum, Beijing, CHINA
"UN/ CONVENTIOANL – OCAT X KADIST EMERGING MEDIA ARTIST EXHIBITION",     OCAT Shanghai, Shanghai, CHINA
2019
"Zhang Peili Geng Jianyi's Students", West Bund Art Center, Shanghai, CHINA
"Roots of Clouds Adrift – Temporality:OCAT Nanjing Public Art Project", OCAT   Nanjing Qixia Exhibition Site, Nanjing, CHINA
"Advent–Inventing Landscapes, Producing the Earth", Qianshao Contemporary Art       Center, Shanghai, CHINA
"A Turning Moment—Urban Narrative in Chinese Contemporary Art 1995-2019", Shanghai Duolun Museum of Modern Art, Shanghai, CHINA
"The Return of Guests – Selections From the PSA Collection", PSA, Shanghai, CHINA
"The Kind Stranger", UNArt Center, Shanghai, CHINA
Lin Ke, Ikon gallery", Birmingham, UK
"Chinternet Ugly", Centre for Chinese Contemporary Art, Manchester, UK
"Remapping Reality–Selected Video Collection From Wang Bing", "EXIT PLAN", SNAP, Shanghai, CHINA
2018
"The 6th Guangzhou Triennial", Guangdong Museum of Art, Guangzhou, CHINA
"FRONT International", Museum of Contemporary Art Cleveland, Cleveland, USA
"Lumen Quarterly, World Organization Of Video Culture Development, Beijing, CHINA
"Play&Loop", Blindspot Gallery, Hong Kong, CHINA
"Flaneur's Square", Hive Center For Contemporary Art, Beijing, CHINA
"Seminar on Painting", Art Museum of Nanjing University of the Arts, Nanjing, CHINA
"presence-Young Artist Excibition", China Academy of Art, Hangzhou, CHINA
2017
"FRONTIER-RE-ASSESSMEN OF POST-GLOBALISATIONAL POLITICS", OCAT   Contemporary Art Terminal Shanghai, Shanghai, CHINA
"SIMUL TANEOUS EIDOS – GUANGZHOU LMAGE TRIENNIAL", Guangdong Museum,  Guangzhou, CHINA
"The Esastasy of Time – Reframing the Medium of Knowing", He Xiangning Art Museum,      Shen Zhen, CHINA
"Sharing Exhibition Episode 1 – Time Dividuals", Screen Room
"You Really Know Where You Are, For the First Time In History", Intelligentsia Gallery,   Beijing, CHINA
"Saved by the Web?", Postmasters Gallery, New York, USA
"The 2nd Session of Changjiang International Photograph & Video Biennale", Chongqing    Museum of Contemporary Art, Chongqing, CHINA
"Digital Samplers, Or New Generation Deep Dive into Internet Superposition", The Galaxy Museum of Contemporary Art, Chongqing, CHINA
".com/.China", K11 Art Foundation Pop-up Space, Hong Kong, CHINA
"AFTER US", chi K11 Art Museum, Shanghai, CHINA
2016
"Shenzhen MAF 2016", G&G Creative Community, Shenzhen, CHINA
"Dragon Liver, Phoenix Brain-Eight Emerging Artists", OCAT Shanghai, Shanghai, CHINA
"Screen addiction-Lin Ke's personal project", Goethe Institute, Beijing German Cultural Center, Beijing, CHINA
"11th Shanghai Biennale-WHY NOT ASK AGAIN", Shanghai Contemporary Art Museum, Shanghai, CHINA
"Performing in the Shot: Video Collections from Wang Bin", NEW CENTURY ART    FOUNDATION, Shanghai, CHINA
"Holzwege", ShanghArt Gallery (ShanghART at West Bund), Shanghai, CHINA
"Li Wendong & Wei Xingye Collection", OCAT Contemporary Art Xi'an, Xi'an, CHINA
"TURNING POINT: CONTEMPORARY ART IN CHINA SINCE 2000", Minsheng Art Museum, Shanghai, CHINA
"Screen Test: Chinese Video Art Since 1980s", CAFA Art Museum, Beijing, CHINA
"THE EXHIBITION OF ANNUAL OF CONTEMPORARY ART OF CHINA 2015", Beijing    Minsheng Art Museum, Beijing, CHINA
"THIS FUTURE OF OURS", Red Brick Art Museum, Beijing, CHINA
"WE – A COMMUNITY OF CHINESE CONTEMPORARY ARTISTS", Shanghai, CHINA
"GLOBALE: New Sensorium", ZKM | Center for Art and Media, Karlsruhe, GER
2015
"THE EXHIBITION OF ANNUAL OF CONTEMPORARY ART OF CHINA 2014", Beijing    Minsheng Art Museum, Beijing, CHINA
"Peek show", Long March Space, Beijing, CHINA
"The Ballad Of Generation Y", OCAT Contemporary Art Terminal Shanghai , Shanghai,        CHINA
"Tokyo Art Meeting VI,"TOKYO" – Sensing the Cultural Magma of the Metropolis",   Museum of Contemporary Art Tokyo, Tokyo, JP
"JING SHEN", PAC PADIGLIONE D'ARTE CONTEMPORANEA, Milan, IT
"Works in Progress-Photography", MUSEUM FOLKWANG, Essen, GER
2014
"OCAT – PIERRE HUBER ART PRIZE SHORTLIST EXHIBITION THE TRUTH ABOUT    ENTROPY", OCAT Contemporary Art Terminal Shanghai, Shanghai, CHINA
"Teach Us To Care and Not To Care – Teach Us To Sit Still", Bank, Shanghai, CHINA
"Too Smart to Good?-The 7th A+A", PIFO Gallery, Beijing, CHINA
2013
"The Sun", V Arts Centre (Space 1), Shanghai, CHINA
2012
"MAKE UP", V Arts Centre, Shanghai, CHINA
"Guest: Standing On the Shoulders Of Little Clowns", UCCA, Beijing, CHINA
2011
"Fiction", Vanguard Gallery, Shanghai, CHINA
"Top Events – 2nd Session", TOP Contemporary Art Center, Shanghai, CHINA
"Top Events", TOP Contemporary Art Center, Shanghai, CHINA
"Low Fat", HanHouse, Hangzhou, CHINA
2010
"DEDICATED TO MONEY MAKERS", MadeIn space, Shanghai, CHINA
Awards
2015
The Chinese Youth Artist Award of the 9th AAC Art
2014
OCAT – Pierre Huber Art Prize
collections (selection)
Power Station of Art, Shanghai
White Rabbit Museum, Sydney
The Museum of Contemporary Art, Los Angeles
M+ Museum of Visual Culture, HK
K11 Art Foundation, HK
Kadist Foundation, Paris/San Franciso
New Century Art Foundation, Beijing